A joy to work with
My Business has used Jubilee Amusements in all of our Amusement requirements for some 5 years, during this time we have had zero incidents and countless commendations for the variety, visual appeal and operation of the equipment. It is a joy to work with Jubilee we certainly have no hesitation in recommending them to anyone in need of amusements be it a large or small event.
Monique Annetts
3 July 2018
Fantastic result
I've personally had the pleasure of working with Jubilee Amusements for almost 10 years on our annual school carnival. As our school's major fundraiser for the year, we have a lot riding on the success of one day. Being able to trust that Ashley and his team have our rides area completely taken care of with the same level of care, diligence and effort that we put into every other area of the event enables us to report a fantastic result each and every year. Ashley and his team are professional and approachable throughout every stage of the planning process. The attention to detail and extensive knowledge about what makes an event successful is why I do and will always continue to recommend Ashley and his Jubilee Amusements team to anyone hoping to make their event successful.
Samantha Young
Carnival Coordinator
Bethany Parents and Friends Association
2 July 2018
Fireworks Night
I wanted to thank you and your team for doing such an awesome job. As always your guys were a pleasure to work with and made the event a lot of fun for the kids. Everyone said how well organised your team was and how they put a smile on all the kids faces.
Please pass this onto your team and we look forward to working with you guys again next year.
Mick Montesin
25 June 2018
WOW!
What a day our 6th Annual Show n' Shine turned out to be on Sunday! With so much happening in Penrith this weekend, we still managed to draw a large crowd with a great turn out of 182 cars for the day! We had perfect weather right from the get go too which was fantastic!
A huge thank you to all of our sponsors for this year! Panthers Leagues Club, Shannons Insurance, NRMA Insurance, AMA Event Management, Jubilee Amusements, Kwik Kopy Penrith for donating all print media, The Western Weekender for donating advertising, Architectural Signs for donating the trophies every year, Wild Ride Trikes, Outback Steakhouse, Bakels Australia, Meguiar's, CarCare Products, Cables Wake Park, AMF Bowling, Grafitti Publications, Cruizin Magazine, Direct Accounting, Luddenham Raceway and iFLY Downunder Penrith.
Special mention must also be made to the Blue Mountains Hot Rod Club who coordinate and run the Show every year with us, and in particular John & Gwenn as well as Rob & Therese, for their countless hours of devotion. Without them, this show would not be able to go ahead. It's the great community support of the Penrith region and beyond that enables us to continue to support the Ronald McDonald Family Room at Nepean, so thank you.
I'd also like to thank the many volunteers from McDonald's and the Family Room for helping to raise the funds to keep the Family Room running to continue to support families in need.
This year's show has managed to raise over $5,500 so far which is a fantastic effort! Every dollar counts and I'm sure Meagan and the rest of the Ronald McDonald House will be pleased with the results from all who contributed their time, effort and dollars to this year's event!
Again, thank you to all who have been involved, whether this was your first or 6th show with us, we appreciate every piece of help offered to help make the Show n' Shine a success. We hope to see you all again next year!
THANK YOU
Matthew Atkins
Marketing & Events
22 March 2018
Our event was such a success
Hi Ashley,
Thank you for your support in delivering a great day yesterday for our Family Day.
We have received some wonderful feedback and we appreciate your assistance in making it a great experience for everyone who came along.
Please pass on my thanks to all of your staff who worked so hard to ensure our event was such a success.
Many thanks.
Annie McMahon
Events Manager
1 December 2017
Fantastic event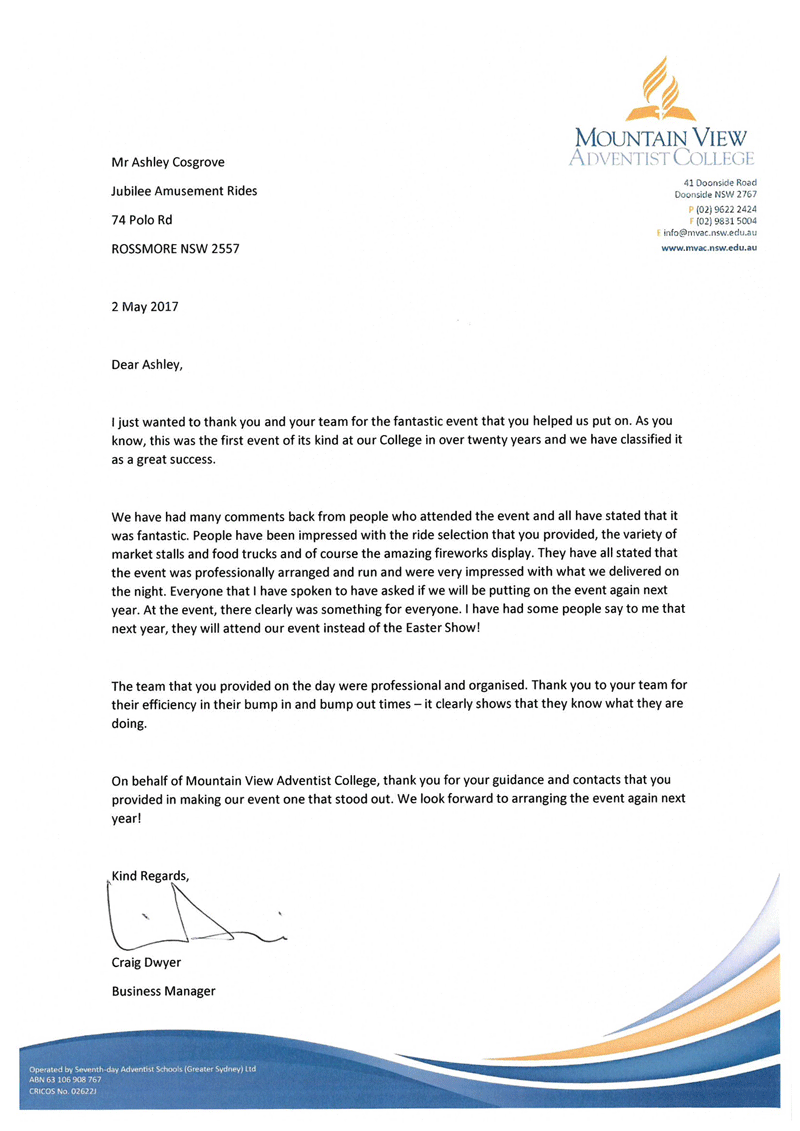 Craig Dwyer
Business Manager
2 May 2017
A big thank you
Dear Ashley,
A big THANK YOU for all your help assisting at yesterday's Family Day!
We have received some very positive feedback which is fantastic and a reflection of your hard work in making the day a success.  The children just loved the opportunity to use the rides, jumping castles and indulging in fairy floss and snow cones and we appreciate how good your team were with the crowd.  The co-operation, enthusiasm and willingness to help was outstanding and the event could not have run as smoothly as it did without your involvement.
I appreciate your support in creating a wonderful event for our "Baxter Family".
Many thanks again.
Annie McMahon
Events Manager - Surgical Care
4 December 2015